Here we are with the third, and last, "Units Preview" for Sons of Cadia before its launch!
Today we will highlight four of the most important (and strongest) units in the expansion: Castellan Jakren Stein, Tempestor Prime Salme Whitlock, a Commissar and Primaris Psyker.

But before we go on, just a quick reminder that Sons of Cadia will come out November the 9th!
Castellan Jakren Stein
Commander of the Cadian forces currently deployed on Alaric Prime, he is considered to be one of the greatest strategic minds to ever serve in the Astra Militarum, his expertise in complex logistics means that he can organisedefensive positions amazingly quickly.

Role on the battlefield: Castellan Stein serves a supporting role, 'buffing' the units around him.

Special skills: He can call in off-map artillery and air-strikes. He can buff a unit to either fire twice or with more accuracy whilst inspiring the the troops around him.

Strengths / Weaknesses: Stein is best positioned towards the rear where he is unlikely to be targeted. His abilities are powerful but he can easily be taken out by any unit that slips through the defensive line.
Tempestor Prime Salem Whitlock
An excellent officer, he is everything a soldier aspires to be, courageous, deadly and utterly dedicated to the Imperium. His tactical mind can always see a way to lead any mission to completion, no matter how impossible it might seem. He specialisesin leading lightning raids and airborne assaults

Role on the battlefield: Whitlock is a hero unit that improves others around him.

Special skills: Whitlock can give units around him a free attack on those he targets, he can rally and inspire a unit, motivate them to run faster or aim with greater accuracy.

Strengths / Weaknesses: He is at his best when surrounded by Scions, dramatically improving their already formidable combat power, he is however vulnerable to most weapons and should be protected by his men wherever possible.
Officio Prefectus Commissar
Charged with the sole duty of maintaining discipline in the ranks the Commissar is often found in the middle of the hardest fighting, leading by example with acts of glory and suicidal bravery. He is the ultimate authority on what goes in the armies of the Emperor, carrying out his justice as judge, jury and executioner.

Role on the battlefield: Maintaining morale

Special skills: The commissars presence on the battlefield will increase morale each turn, in times of crisis he can also threaten summary execution to instantly encourage a unit to even greater feats of heroism.

Weapons:
- The Plasma Pistol shares the characteristics of the Plasma Gun but has a much shorter range, like all pistols it has the 360 degree reaction fire arc.
- The Power Sword is a high power melee weapon, equally good against any opponent.
Strengths / Weaknesses: The commissar can fight well in melee, one of the very few units available to the Astra Militarum that can. He'll be your last line of defence. Try to keep him out of harm's way and you'll be rewarded with a unit that can deliver a strike right when you need it most.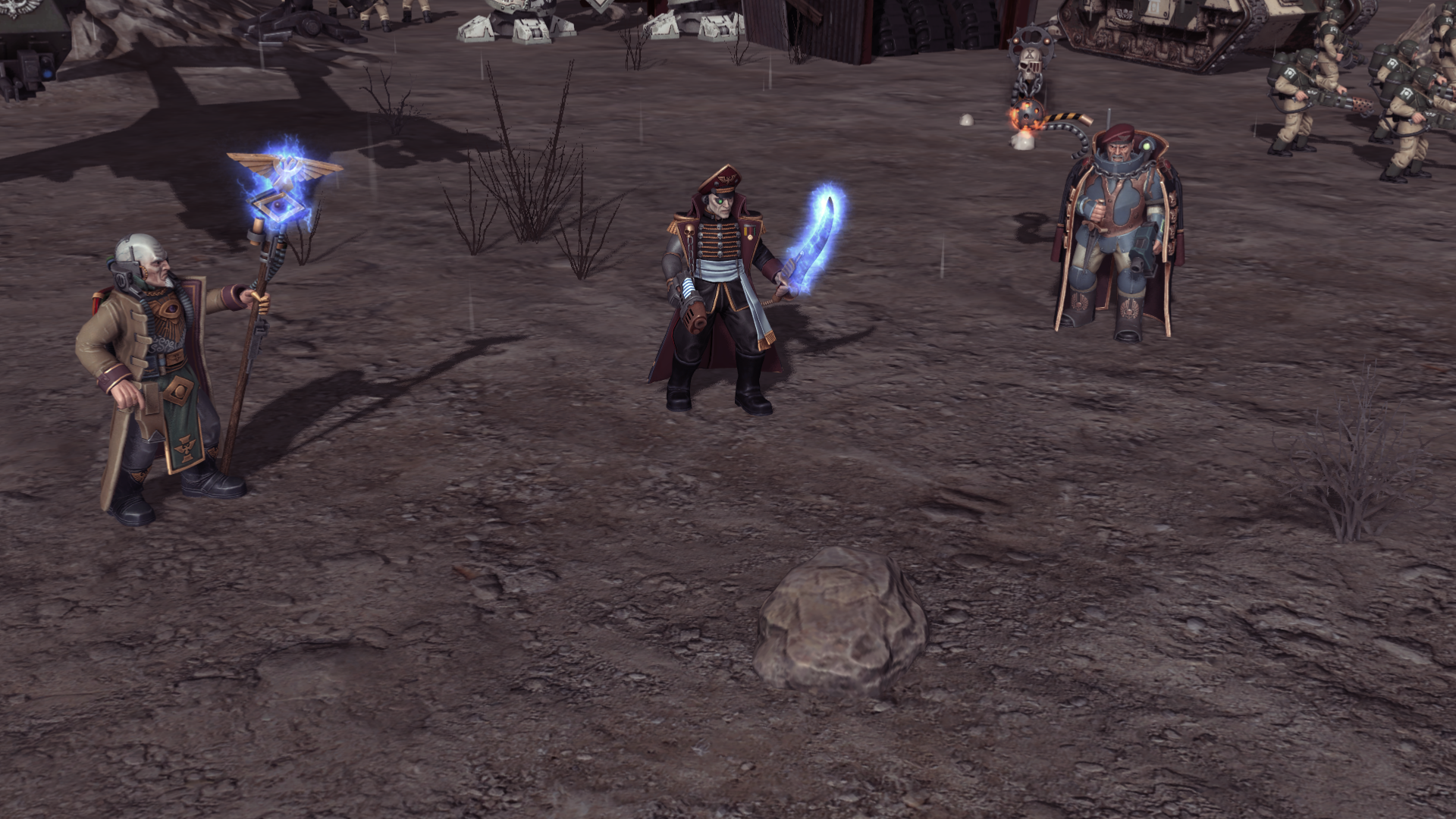 Primaris Psyker
Feared and viewed with suspicion at all times, few psykers can hope to gain any form of freedom in the Imperium. Strong and disciplined individuals who can master the powers granted by such a rare connection to the warp often find themselves serving in the forces of the Astra Militarum where in exchange for recognition they must dedicate their life to holding off the madness that lurks on the other side whilst battling foes from all sides including those they would call allies.

Role on the battlefield: The Primaris Psyker is a caster unit that can devastate anything that challenges them.

Special skills: He has a range of powerful attacks ranging from an AoE lightning attack to a high power Ectoplasmic bolt. He can phase out of reality and dominate the minds of his enemies.

Weapons: The Force Staff can be used to hit multiple enemies in melee and armour is no defence against it.

Strengths / Weaknesses: His many attack abilities means he'll always have an optimal attack available for any situation, making him a very efficient killer. However, you'll need to be careful not to leave him open to attack, as with few defences he'll fall quickly and will be a painful loss to deal with.
That's it for today's "units preview", but before you leave there's one last thing we wanted to announce: we're going to have a live preview of the game on our Twitch channel the 3rd of November, 11:00 AM EDT / 3:00 PM GMT / 4:00 PM CET! Don't miss the chance to take a sneak peak!