The Ministry of Defense needs you!
Your wits, your bravery, and your humanity can help us beat the Cylon threat.
New recruitment slots have opened for Colonial Defense Army and Colonial Fleet Shore roles. Aptitude tests are available for prior colonial service.
You aren't just another number in the system. Show the toasters you're alive. Visit your local Ministry of Defense recruitment center today!
In the last Dev Diary, we discussed some of the changes we are looking to make in Season Two of Battlestar Galactica Deadlock. In particular, we introduced some of the ideas we have around improvements to the user experience when giving your fleet orders. In this Dev Diary, we'll go into a bit more detail about some of the changes we are working on.
A feature that we've seen requested a number of times is the ability to select multiple ships at once and give them all orders simultaneously. In the not-too-distant future, you will be able to do exactly that.
Either by shift-clicking or drag-selecting multiple ships, any common orders will be available to multiple ships. Want a formation to focus fire on a single enemy target? No problem, just select the ships in the formation and give them a single focus fire command.
Want to quickly launch every fighter squadron in your fleet? Soon, you'll be able to press Ctrl+A to select the entire fleet and issue a single Launch All Squadrons command...then watch the battlefield fill up with fighters.
Commands like firing missiles will be applied to any ships that have missiles.
You will also be able to move a single projection from a selection group and have all of the selected ships projections move at the same time. This will make moving formations a lot easier and faster.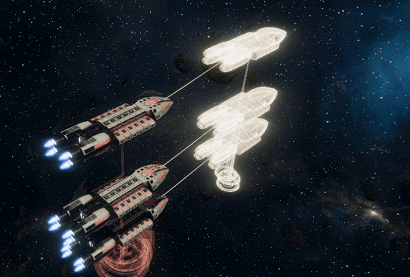 Work on the first update for Season Two is advancing well, so we are putting out a call for beta testers. If you'd like to help us test the new interface enhancements, and some other stuff we haven't announced yet, you can sign up here.
Until next time. So say we all!