Order of Battle fans, we have big news for you. The game previously known as Order of Battle: Pacific is being restructured into Order of Battle: World War II, a bigger project with a wider scope and the goal of featuring multiple fronts of World War II.
Order of Battle: Pacific is going to be split into three different products:
· Order of Battle: World War II, featuring the bootcamp missions and the first mission of each DLC.
· The Order of Battle: U.S. Pacific DLC, featuring the American Pacific campaign.
· The Order of Battle: Rising Sun DLC, featuring the Japanese Pacific campaign.
Now hold on to your seats! Order of Battle WORLD WAR II will be available to everyone for free! It contains the bootcamp scenarios plus the first scenario of every DLC (including future ones), and they are completely free. You will be able to try the game, play several scenarios and decide if you'd like to buy the DLCs.
Important: if you own Order of Battle: Pacific you'll be given free keys for the two DLCs, Rising Sun and U.S. Pacific, plus any other DLC you already own!
That's not all: in order to unlock the fully-featured editor and every single faction in multiplayer only a single DLC purchase is needed!
Ok, here is an example of what you can expect from this system.
Below is the campaign screen that you'll see if you're a newcomer to the series and you have never purchased the base game. You have immediate access to the bootcamp campaign (at the top) and all of the other campaigns (which are DLCs) are grayed out but you can still click on them!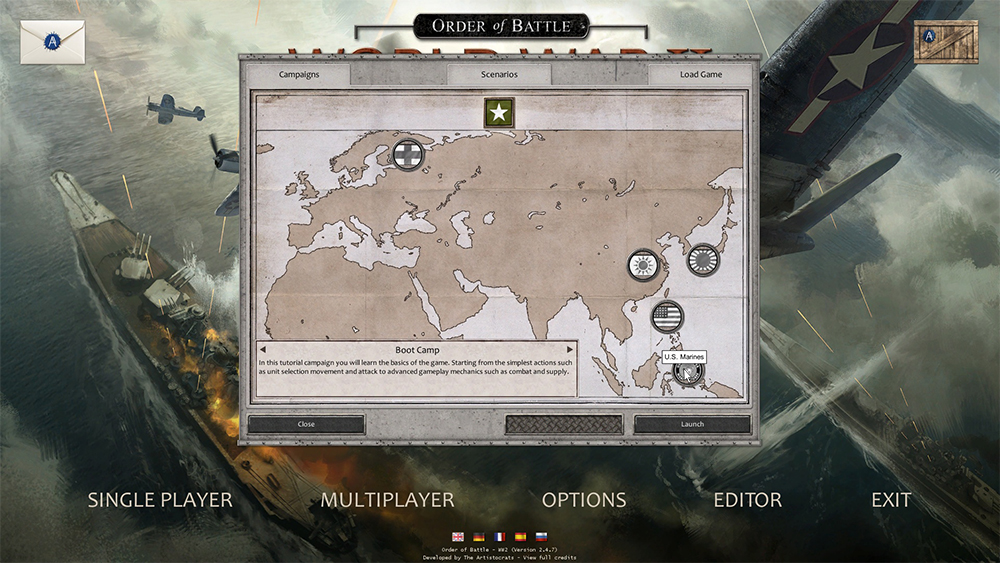 Let's click on the US Marines campaign (at the bottom). A description is displayed on the left panel and now two buttons have appeared on the right. If you click on "Try Campaign", you'll be able to see the campaign screen and launch the first scenario, which is Solomon Islands.
So you can enjoy this scenario with absolutely no restrictions.
After a few hours of intense combat, you finally beat the scenario and switch to the next one in this campaign (which is Guadalcanal).
Now you can read the briefing, deploy your units and plan your future moves. But when you'll press end turn, you'll see the following screen. Either you want to continue your amazing wargaming experience and purchase the DLC to unlock the whole campaign or you can quit and go back to the main menu. In any case, your progression is saved so even if you decide to purchase the campaign later, you'll be able to keep the experience that your units earned in the first scenario.
Also, as mentioned previously, the editor, multiplayer modes and community content are not available in the free version, but you only need to own one of the DLCs to instantly unlock this content!
Finally, here is an example of what happens when you buy (or already own) a DLC of Order of Battle: World War II. Every single campaign owned appears with bright colors in the campaign screen. Also instead of the buttons previously displayed, you now have a "Launch" button. Click on it and you're ready for a full campaign of amazing scenarios!