The Astra Militarum, commonly known as the Imperial Guard, is the primary fighting force of the Imperium of Man. Across a galaxy of a hundred billion stars, there must be billions of Guardsmen at least – yet even the Departmento Munitorum on Terra, which oversees this immense force, has no real idea of how many troops there are at any one time. A safe estimate is to say that there are millions of regiments.
In Warhammer 40,000: Gladius the Astra Militarum is one of the four factions you can play as. Its strengths are, of course, its huge numbers, its mighty vehicles and its fortifications.
The Astra Militarum can field inexpensive ranged infantry. They can field a lot of Guardsmen who suffer from low morale, but who cares about low morale when you can just overcome any enemy with your sheer numbers? And you can always use your Lord Commissar to remind them of their duty…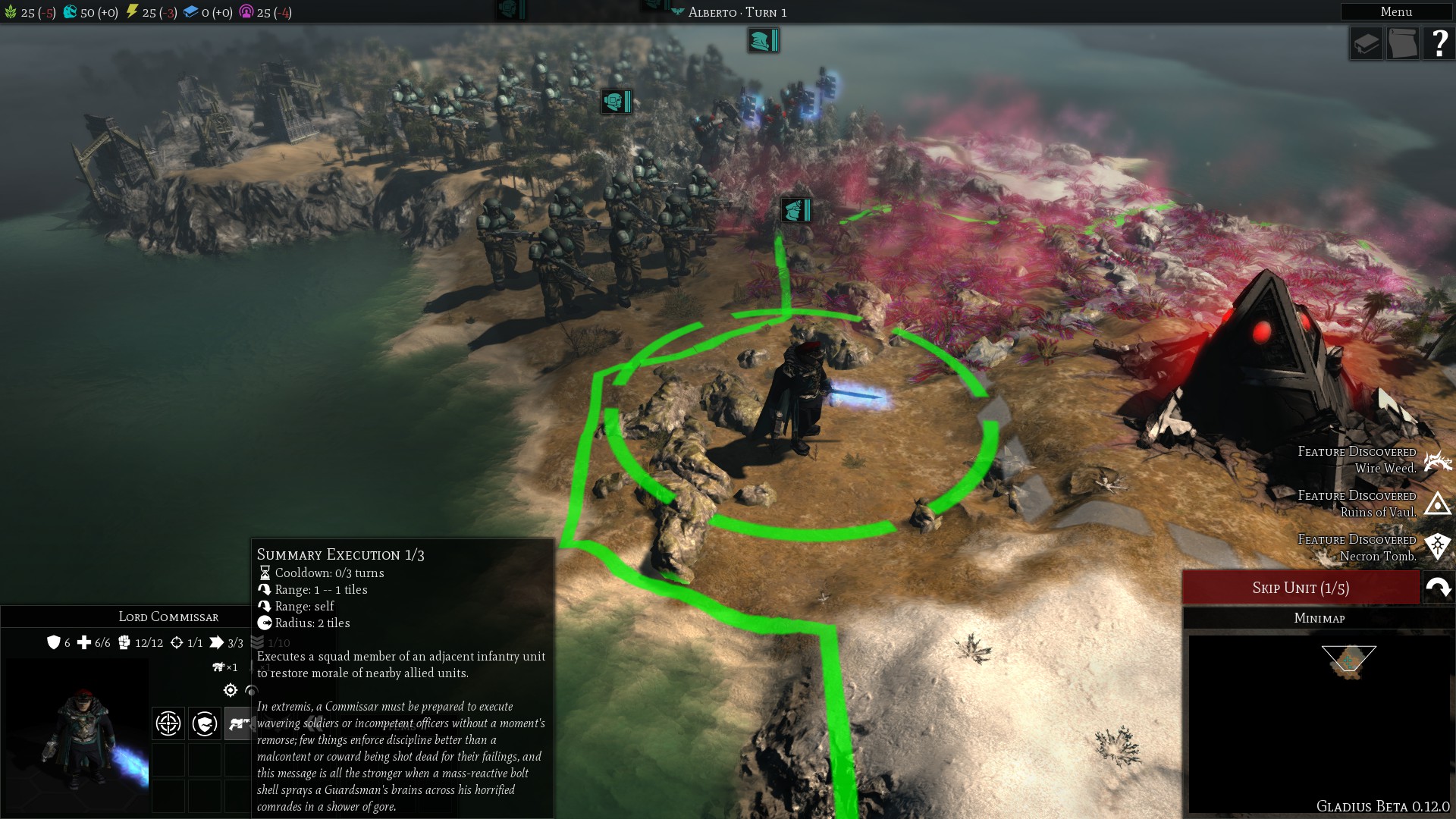 If you need more punch you can decide to send in the Heavy Weapons Squads which will pierce enemy armour with krak missile launchers, or you might want to deploy some Bullgryns: carrying shields and power mauls they are mighty melee units.
The Astra Militarum on Gladius has the assistance of the Adeptus Mechanicum. The Techpriest Enginseers can be used to found new bases as well as to repair vehicles on the field.
The Astra Militarum also makes extensive use of psykers. You can use the powers of the Wyrdvane Psykers to directly cause damage on enemy units by engulfing them with a torrent of psychic flames as well as debuff them by sapping their strength. Then there are Primaris Psykers, hero unit with an extensive array of powerful psychic powers.
But where the Astra Militarum truly shines is in its vehicles range.
First off you can use Scout Sentinels for recon duties and to support infantry.
The Leman Russ Battle Tank is the mainstay of the Imperial Guard's armoured forces. Those tanks have won countless battles for the Imperium and will no doubt continue to do so! Make wide use of them.
Then there is the mighty Baneblade, an unmistakable icon of the Imperium's armoured supremacy. Possessed of overwhelming firepower, exceptionally thick armour, and a roaring power-plant that allows it to surge into battle with surprising speed, the Baneblade is a truly deadly foe in any conflict.
Armoured groups give their best when they are led by a Tank Commander, a special hero unit with a great synergy with other Tank allied units by boosting their speed and damage.
The Astra Militarum also possesses devastating long range firepower. When the Imperial Guard go to war, they march to the thunderous report of batteries of Basilisks whose guns can flatten entire cities.
Should you be struck from above, fear no more, the Hydra is here! Whether faced by lightning-fast xenos fighters or daemonic, leather-winged monstrosities, the Hydra Flak Tank is ideally equipped to blow aerial foes out of the sky.
Speaking of aerial power… use your powerful Marauder Bombers to raze enemy bases to the ground from the sky. Protect them and conquer aerial superiority with the fast Thunderbolt Heavy Fighters, and make lightning strikes with your Valkyries, which are able to transport your troops anywhere on the map!
Last but not least, the Astra Militarum can erect mighty field fortifications, the Imperial Bastions, fortresses that can withstand even the most fierce of punishments!