With bolters blazing, the Battle-Brothers of the Adeptus Astartes crush the foes of the Imperium wherever they may be found. Each Space Marine is an elite genetically-engineered super-soldier, a mighty and fearless hero worth a hundred lesser men.
Each Space Marine is recruited into a thousand-man Chapter, before they are extensively modified, with nineteen extra organs and the crucial Chapter gene-seed. From the numerous Ultramarines and mysterious Dark Angels to the fierce Space Wolves and tormented Blood Angels, each chapter has its own traditions and style of combat.
Armed with the finest weapons the Imperium can provide, clad in suits of intimidating power armour and borne to war aboard swift and deadly fighting vehicles, they are the Imperium's ultimate weapon. Though relatively few in number, it is the Adeptus Astartes who represents Humanity's best hope for survival – for they are the greatest warriors the galaxy has ever known.
Infantry
Tactical Space Marines are the first line of offense of any offensive of the Adeptus Astartes. Armed with boltguns and clad in ceramite armour, you can later equip these mighty warriors with a range of grenades for increased offensive abilities. They can also be deployed from the orbit, but only once you research the Orbital Deployment technology. They are elite soldiers and they are immune to fear, and cannot be broken by morale, like all Adeptus Astartes.
Assault Space Marines come into play when you need fierce melee warriors… armed with vicious chainswords and bolt pistols, they can use their jump packs to make bounded leaps across the battlefield and make boosted flights over short distances.
When you need to take on a vehicle from a distance, Devastator Space Marines are the perfect choice. Their powerful lascannons can cut through any kind of armour.
Amid the fire and thunder of the front lines, Space Marine Captains set a peerless example to their brothers as they carve down one enemy after another. Each Captain is a skilled warrior, a veteran of hundreds of battles who has slain whole armies of foes during his celebrated career.
Terminators are indomitable warriors who undertake those missions that even their power-armoured brethren cannot. With their storm bolters and their power fists they can cut through virtually any ground opponent.
Apothecaries are corageous field-surgeons who face the full heat of battle, their nartheciums healing even grievous injuries, and their vials of combat stimms and anticoagulants quickly getting wounded brothers back into the fight.
Space Marines Librarians are powerful psykers, harnessing the potent mutation they bear as a force to defend Humanity. They can hurl blasts of force that crush their victims to paste, while others twist the flow of time itself, or revitalise their brothers with incredible surges of vitality.
Chaplains are warrior-priests who can be found wherever the fighting is thickest, inspiring their brothers to greatness with every thunderous blow and roared exhortation.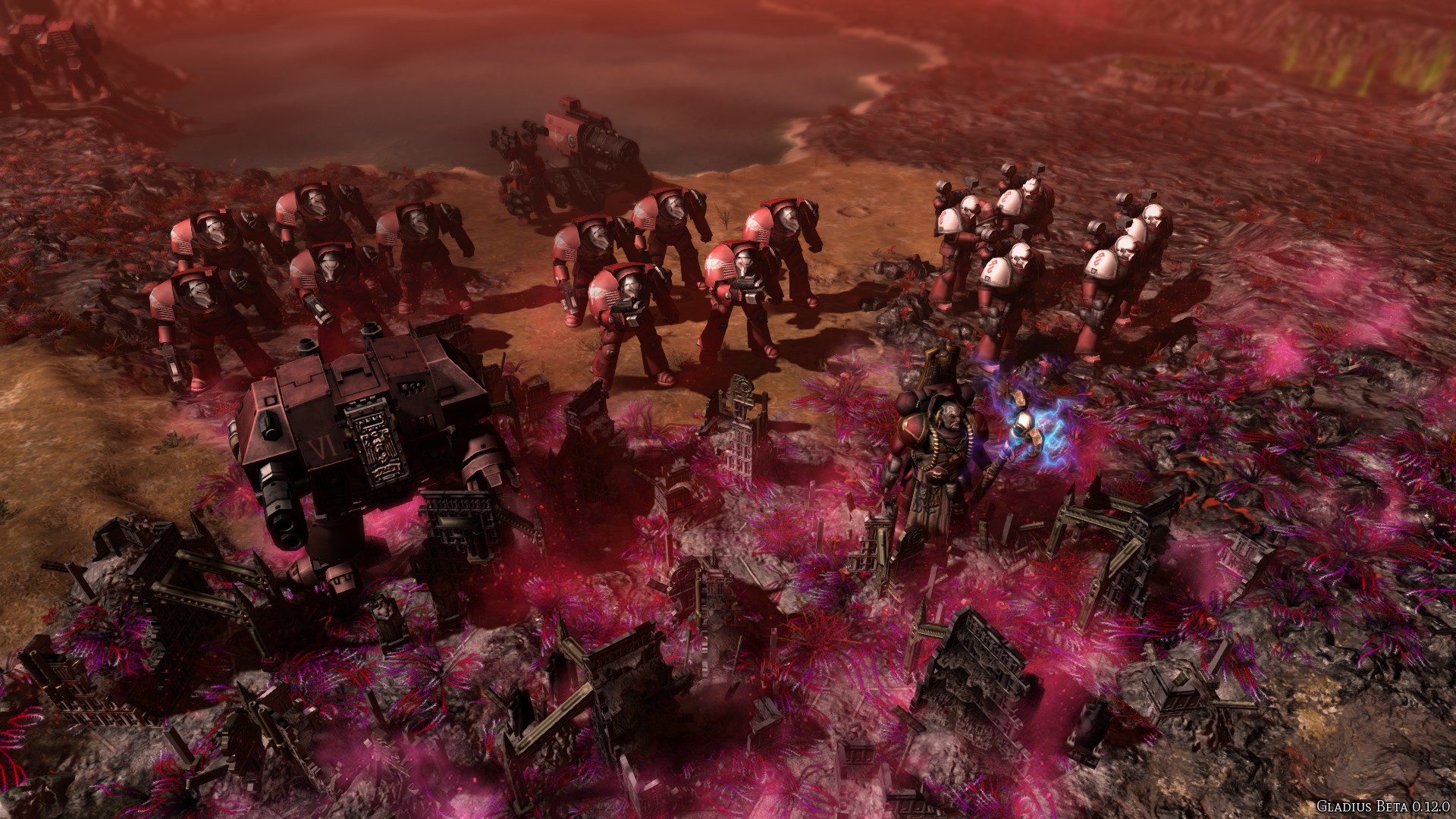 Vehicles and artillery
With their mighty power fist and blazing multi-melta and storm bolter, Dreadnoughts are armoured war engines which trample a path of destruction through any foe.
Thunderfire Cannons are colossal, quad-barrelled artillery guns that are designed to excel in a static defence role. Each is capable of firing and reloading at a punishing rate, unleashing salvo after salvo of high explosive shells, pounding the enemy into oblivion.
Scout Bikers perform an essential task for the Adeptus Astartes. Not only they are excellent scout, executing recon missions and gathering intel on enemy forces, but they are also adept at using their speed and manoeuvrability to outflank their foes.
Skimming over the battlefield at breakneck speeds, Land Speeders bank and roll with incredible agility. Able to navigate tangled urban ruins, narrow-sided canyons, and even to weave through dense forest canopies, this vehicle possesses unrivalled manoeuvrability.
When Stormraven Gunships streak into battle with their weapons blazing, heretics and xenos cower! More of a flying tank than a conventional dropship, the Stormraven is the most versatile aircraft in the arsenal of the Adeptus Astartes. Fast, manouvreable, resilient, boasting prodigious firepower and a substantial transport capacity, the Stormraven can perform many different roles.
The smaller Stormtalon Gunship is extremely fast and agile, and makes a superb air-interceptor and ground attack craft. There's no better vehicle to reap air superiority than the Stormtalon!
And now let's get to the tanks.
The Predator is just brutal. The battle tank's autocannon is the bane of enemy infantry and light vehicles, making this tank your go-to choice to crush & exterminate.
The Vindicator is a short-ranged sledgehammer of a vehicle, a siege tank whose massive demolisher cannon can reduce any target to a smoking crater.
Last but not least we have the Hunter: from out of its massive turreted warhead chamber, it sends skyspear missiles thundering into the heavens. Emitting a pierce scream as it tears across the firmament, each of these sacred rounds seeks out the skyborne foes of the Emperor. Entombed in the heart of each missile, a servitor savant guides the ordnance to its foe.