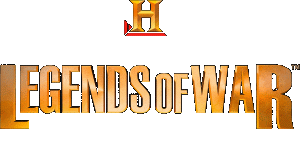 In one of the most intense turn-based strategy games to date, you will advance along the path of General Patton's Third Army at the height of the Second World War. Lead your troops through the exact paths that Patton traveled during World War II as you successfully complete different operations while traversing the Western European Theater. Command your army to victory in this devastated area of Europe where heavy battling commenced between America and Germany.
One of the most exciting and realistic war games ever created, HISTORY ® Legends of War puts you in the line of fire and demands you prove your worth as an American soldier. Turn-based strategy games are taking over the world of video gaming, and this one shows us why. With an arsenal of powerful weaponry, detailed maps, and in-depth, strategic moves, HISTORY ® Legends of War holds top rank in war games!
WE RECOMMEND USING A FREE DOWNLOAD MANAGER TO DOWNLOAD THIS TITLE. TWO GOOD CHOICES ARE Download Accelerator Plus AND Internet Download Manager.